Psychology III
Psychology III, 30 credits, is a full time day course given every semester. You will need Psychology I, 30 credits fully completed and Psychology II, 30 credits with a minimum of 22.5 credits completed including method elements of at least 6 credits or equivalent, to be eligible. Course code is PS3311.
Course content
1. Methods, 15 credits
This module concerns both qualitative and quantitative methods that can be used in psychological scientific investigations. Choice of problem, design and method will be discussed from a scientific point of view with consideration of research ethics. Certain steps in the research proposal will be discussed, such as problem identification and formulation, appropriate design choice, sampling methods, and the analysis and interpretation of both qualitative and quantitative data. Issues of reliability and validity will be stressed. Applied computer analysis where the emphasis is on practical application of existing statistical programs will form a part of the course.
In this regard, the course will concern qualitative methods, descriptive and inferential statistics, hypothesis testing with variance analysis, measurement theory and an introduction to classification and cluster analysis by way of a pilot study, seminars and examination.
2. Thesis, 15 credits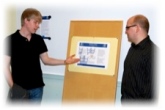 This module comprises a suitable research project chosen by the student in agreement with the supervisor, within the limits of local resources and research alignment. This part of the course is to be conducted by way of the students own research plan, carried out and presented in the form of a thesis that is to be submitted to a study seminar. Students are expected to act as opponents and share in at least 5 study seminars.
More information
Application information in the Stockholm University course catalog.
Last updated: March 12, 2020
Page editor: Henrik Dunér
Source: Department of Psychology